Genshin Impact has many powerful units, and Ganyu's popularity among them is well-established. Specializing in Charged Attacks, she has an on-field DPS oriented kit, while still offering off-field damage with her Elemental Burst, allowing her to be a versatile and flexible unit while she excels in many different situations.
In this article, Gurugamer is going to showcase the top 10 best teammates for Ganyu in Genshin Impact 2023.
Xiangling
Xiangling has high personal damage, contributing a significant amount to the team's damage. Her Pyro application is fast enough that Reverse Melting all Charged Attacks is possible if Ganyu doesn't use her Elemental Burst. After C4, Xiangling provides the longest lasting Pyro out of any character. This allows Ganyu to Melt up to 6 Charged Attacks. Prior to C4, the Burst only allows up to 5.
However, as with all characters here, she has very high Energy costs and requires a battery in the form of Bennett.
Mona
As she is on the standard banner, Mona can be considered the most common option, as many players obtain her off standard or after losing a 50/50. While her Freeze uptime is not as good and her Energy requirements are high, she provides an incredible buff with her Burst's Omen and her lower cooldowns allow Ganyu to achieve shorter rotations.
Omen applies a debuff to all enemies at the time of its cast. Enemies take increased damage. This increased damage can be thought of as extra DMG% that can't be snapshot. However, Omen will only last 3s after its "bubble" get popped. The bubble pops after either 5s, or if the enemy takes stagger damage. Almost everything deals stagger damage, but when the enemy is Frozen, they don't take stagger damage, maintaining Omen.
Kazuha
In Melt Variations: Despite his reputation, Kazuha does not perform well in Melt Ganyu. He brings with him Elemental Damage Bonus and VV, two incredibly strong buffs, but his lackluster Pyro application means that even the slightest bit of interference can result in losing Melts (this includes Zhongli Pillar, Ganyu's E, and other enemies). In addition, its short duration means that while it is possible to Melt 5 Charged Attacks, most players will only be able to Melt 4, losing a tremendous amount of damage. On top of that, his own damage is quite poor with nothing to Swirl, the rotation is hard to execute, and it overall doesn't perform well in single-target.
In Freeze Variations: In Freeze, Kazuha's buffs are much more effective. His buffs are incredibly potent when snapshotted onto Ganyu's Burst, and he can take full advantage of Swirl. Compared to Venti's, Kazuha's grouping is not as good in heavy mobbing content but still is a great option against heavier enemies and more flexible with its positioning. However, with his increased field time, and lack of Energy refund, Kazuha doesn't always perform better than Venti.
In Mono-Cryo Variations: Kazuha is by far the best Anemo unit for Mono-Cryo. His immense buffs are greatly beneficial, and the relatively acceptable Energy Requirement greatens his value in comparison to Venti.
Shenhe
Shenhe provides a massive amount of buffs to Ganyu while dealing off-field damage. This is incredibly powerful in all playstyles, but truly shines in Freeze and Mono-Cryo or when Ganyu has all her Constellations unlocked in Melt. This is because Shenhe can be used as the fourth unit in Reverse Melt instead of a shielder like Zhongli, but using Shenhe means forgoing a shielder, requiring Ganyu to quickly burst down enemies.
Bennett
An unavoidable character in Melt playstyles, providing tremendous amounts of ATK with his Burst, on top of his healing, Energy generation, and self Pyro application, which Anemo units can use to absorb Pyro into abilities.
Diona
Diona provides good Particle generation and is the only Cryo character who consolidates defensive utility and Energy. The high number of hits on her Elemental Skill also allows her to utilize Favonius Warbow extremely well. This makes her a good option in Freeze if you want more survivability, but in Melt, while her C6 EM is useful, her shield is underwhelming.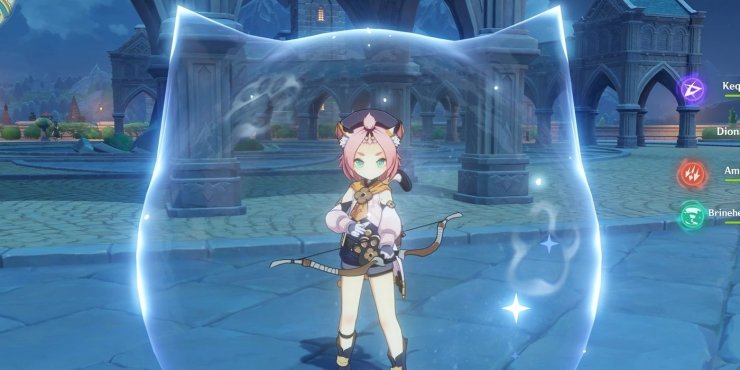 Rosaria
Rosaria has decent damage and Particle generation with an appreciated CRIT Rate share. She also gets much better with Constellations.
Ayaka
Unlike the above characters, Ayaka does not support Ganyu. Instead, Ganyu/Ayaka teams operate similarly to dual-carry teams. While she does have good Particle generation, Ayaka needs slightly more Energy Recharge than other Cryo units because Ganyu generally doesn't use Favonius weapons. If Venti is used with these two, then this isn't an issue. Furthermore, all 3 characters like AoE fights where energy is plentiful, reducing this concern even more.
However, if players are able to satisfy Ayaka's Energy Recharge needs, she can be a very strong pairing with Ganyu because of her extremely high-damaging Elemental Burst, which can take full advantage of Ganyu's Ascension Four passive.
Venti
Essential for Freeze variations, Venti provides extremely strong grouping against low-to-mid staggerable opponents, along with an appreciated Energy refund, which solidifies him as the advised option for Freeze Ganyu teams. Venti does struggle more against heavier enemies and bosses though, who can simply leave his Burst. This makes his Energy refund more inconsistent as well.
Kokomi
Kokomi brings more Hydro application for longer Freeze uptime as well as healing with a very high uptime, as her jellyfish will be on-field for a long time. As a Catalyst and support, she can carry gear that can benefit Ganyu by boosting her DMG, making Kokomi an excellent choice for comfortability in Freeze teams.
In addition, her low field time allows for easier rotations with more Charged Attacks, as well as faster Freeze setups. For instance, Kokomi Skill into Ganyu Skill is super fast and an instant freeze.
>>> Read more: Genshin Impact Raiden Shogun Team Comps Guide (2023)